MOROCCO
AN EPIC
ADVENTURE
Gateway to Africa, land of breathtaking mountain ranges, ancient cities and sweeping deserts, Morocco is any photographer's dream and the ideal place to host our epic photo tour.
Taking photos (of people) in Morocco however, can be difficult, which is why this workshop is the ultimate challenge and the perfect opportunity for anyone who wants to make a giant leap in their street photography skills, learning to get closer, become part of the scene and conquer their fears in street photography.
Dates
14th to 22nd September 2019
Itinerary
Marrakech – Ouarzazate
Merzouga – Erg Chebbi
Boumalne Dades – Marrakech
Group
8/10 people
Price
Early-bird rate
2,750€/person (double occupancy)
Standard rate
2,950€/person (double occupancy)
100€ supplement for single occupancy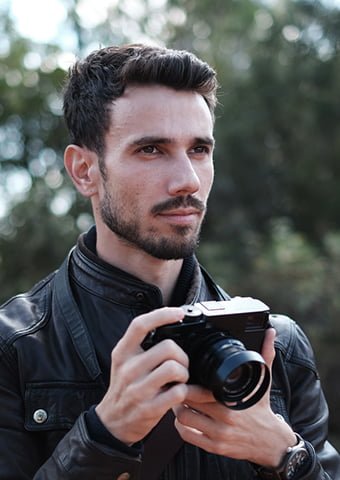 Jorge Delgado-Ureña
Although Jorge has a great memory, he always feared not remembering every detail of his life. He found the solution to his fears one day in his father's Nikon F3. The first time he held it in his hands he felt butterflies, the kind you feel when you stumble across the love of your life, and in that moment, he knew it was something that was going to last forever.
A recent assignment took him to Nepal and during this trip not only did he fall in love with the country, he also produced and had published by National Geographic, some of the best photos of his career.
Now, with RAW photo tours he hopes to teach others to document and discover through their very own lenses, countries like Nepal, Morocco, Cuba and India.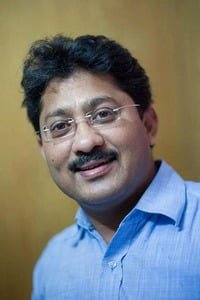 Apratim Saha
Apratim Saha started photography at the age of twelve inspired by his father. He feels capturing images that people enjoy to look at and are impressed with is not the only reason that inspired him to take up photography seriously but to give people a reason to care was the main intention for him.
Apratim is a contributing photographer for National Geographic Stock Photography, Getty Images, Stocksy United and the brand ambassador and mentor for Tamron and Datacolor. He is also a consultant of the internationally acclaimed Chiiz Photography Magazine.
He has over 30 years of experience, from traditional film to digital photography. He is a commercial photographer specializing in people photography, portraiture, lifestyle & editorial clients. Besides commercial works, Apratim also shoots other subjects that stimulate his visual or emotional sensibilities.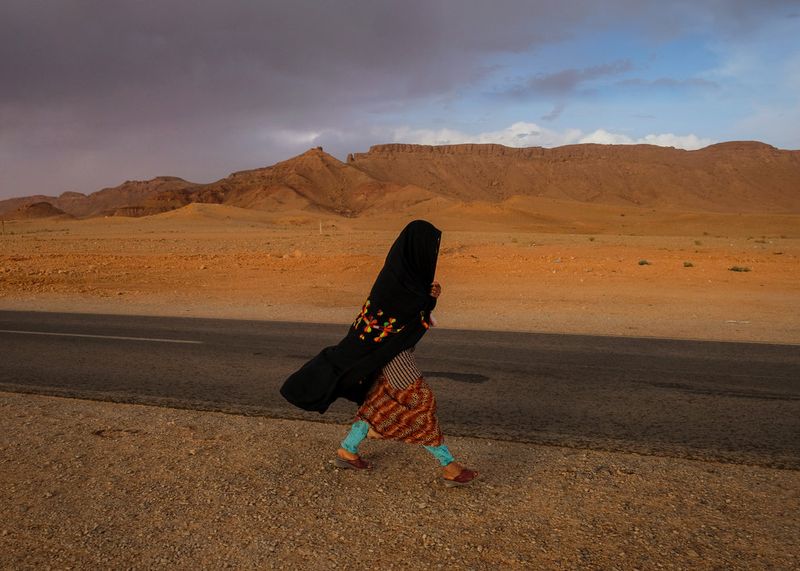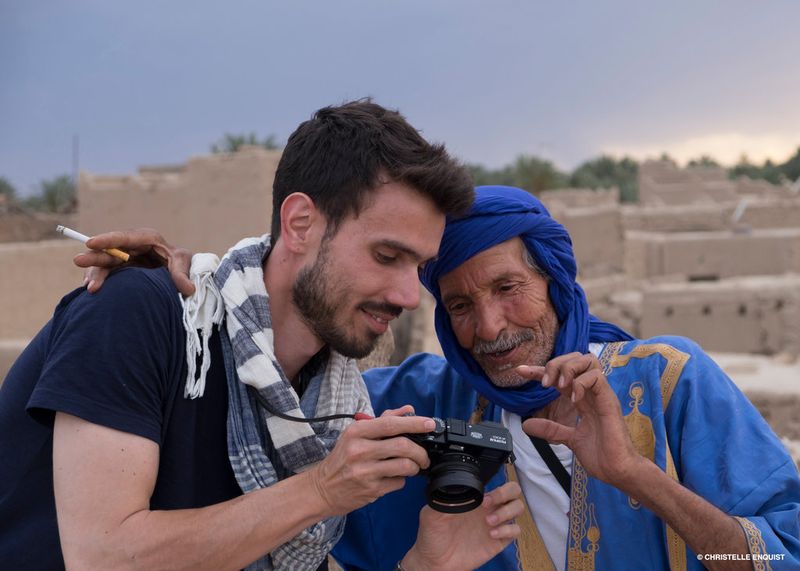 ITINERARY
Day 1: Introduction to Morocco
Arrival to Marrakech, transfer to the riad and introduction to this intriguing country.
Day 2: UNESCO World Heritage Sitero
After a leisurely morning our adventure begins. Marrakech and its wonders will have to wait because in 4×4's we make our way to the Land of Lawrence of Arabia and Gladiator, or at least, where they were filmed. Ait Ben Haddou, aside from being a famous shooting ground, has also been a UNESCO World Heritage site since 1987, and as you step inside the walls of the ksar you'll be met with earthen clay merchant houses (Kasbah's) that will take your breath away.
With light seeping though the meandering streets and plenty of time to explore this exquisite place we begin telling our story with help of our cameras. As night falls we head to Ouarzazate where we will spend our second night.
Day 3: Land of the Berber people
The third day of our journey takes us through the Draa Valley that, thanks to its river, is a genuine oasis. The lush vegetation that grows in this hostile environment appears to defy every law of nature and will have you questioning what other wonders await. We continue heading west, passing small villages and kasbah's, edging closer and closer to the Sahara Desert until suddenly you are able to make out the golden dunes in the horizon.
By now we are in Merzouga at the foot of Erg Chebbi, and here life is different. The people who live beside this vast expanse of sand are both exotic and intriguing, not to mention sometimes difficult to photograph. But don't panic, we'll show you how to make the most of it!
Day 4: Desert life
A day dedicated to discovering desert life.
We begin with a visit to the fossil quarry, the livelihood for many locals in this region, where we will get to see, first-hand, how million-year old specimens are retrieved from the ground and transformed from a pieces of rock into beautiful pieces of history: It's the perfect opportunity to capture details and practice some on-location portraits to add to our Moroccan stories.
Next we visit the market of Erfoud. Its many stalls, spaciousness and friendly people make it the perfect place to observe and document people's interactions and the local life. It'll be a challenge to resist the olives and dates piled up in every second stall!Originally brought to Maghreb as slaves, around 1950 the Gnawa people settled in a little town called Khamlia. Here we will get a taste of a completely different culture and enjoy some of the music that these people are famous for.
After some free time to cool off in the pool or go for a ride on a quad, we set off for the Erg Chebbi desert on camel back. Time to soak in the amazing sights and watch these magnificent mountains of sand change from from gold to orange, pink and purple as the sun goes down. After dinner, music by the open fire, night photography and star gazing we'll retire to our haimas (tents) for some well-deserved rest.
Day 5: The doors to heaven
The spectacular sunrise over the dunes marks the end of our time in the desert and the beginning of a new adventure…
In 4×4's we make our way back to Marrakech. Somewhere along the way high walls of pink and grey start to close in around the road until suddenly we find ourselves deep inside the Todra Gorge. A 300m deep fault splits the orange limestone into a deep ravine at some points just wide enough for a crystal-clear river and single-file travellers like us to squeeze through. After hunting for light and and exploring this little piece of heaven we head to Boumalne Dades where we will spend the night.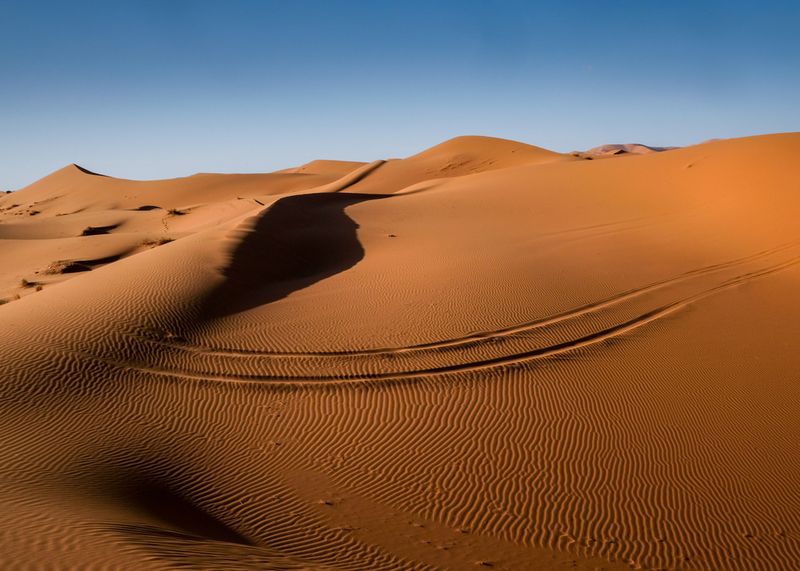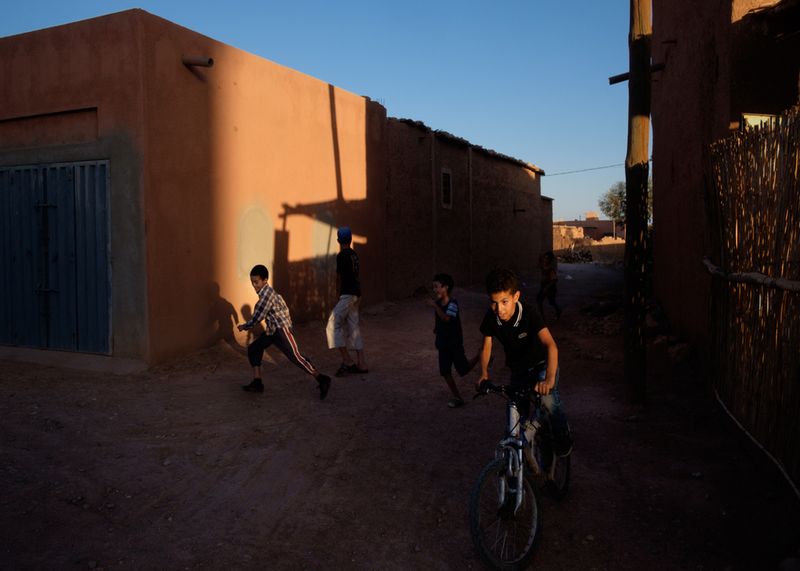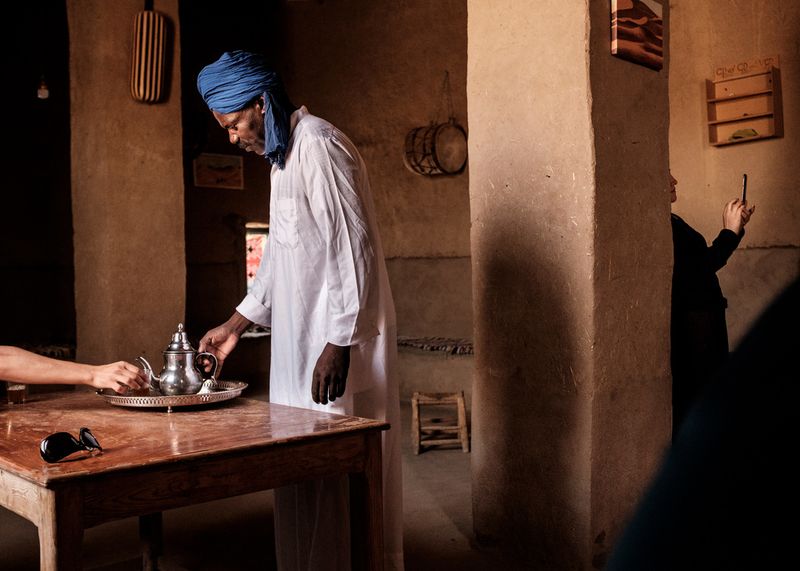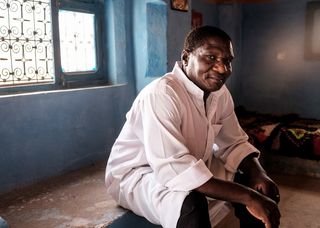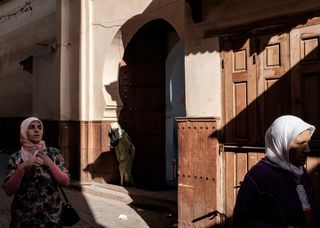 Day 6: Route of the thousand Kasbahs

In this last leg before arriving to Marrakech we drive along the 'route of the thousand kasbah's' and make a stop in Skoura.
This town that, at first glace might not appear to be much, is actually a beautiful green oasis that once was an important trading point. After a two-month journey across the Sahara, blue-robed Tuareg desert traders would offload cargo from caravans and Middle Atlas mountaineers packed it onto mules headed to Fez. Though times have changed since then, Skoura's historic mud-brick castles remain, and desert traders throng Monday and Thursday souqs brimming with intensely flavourful desert produce.
It's also famous thanks to the 17th century Amerhidl Kasbah that has been immortalised on the back of the country's 50 dirham note!
After visiting Skoura, we continue our route until we reach Marrakech: our 'home' for the next two nights.
Day 7: Marrakech
Marrakech has stood for close to a thousand years, a city of history and culture.
One of the most evocative places in the world, it's best know for its medina. This Red City (given this name due to the hue of the thick walls surrounding the old city) is a show-stopping sight of crowded souqs, where sheep carcasses swing from hooks next door to twinkling lamps, and narrow, doodling ochre-dusted lanes lead to nowhere. The main artery into this mazy muddle is the vast square of Djemaa el-Fna, where it's carnival night every night. Stroll between snail-vendors, soothsayers, acrobats and conjurers, musicians and slapstick acting troupes to discover the old city's frenetic pulse.
It'll be a challenge to capture just one story, luckily, we have the whole day so you won't have to!
Day 8: See you soon!
Transfer to the airport and end of the adventure…for now.
PRICES & CONDITIONS
Single Occupancy early-bird rate: 2,850* €/Person
Single Occupancy standard rate: 3,050* €/Person
Double Occupancy early-bird rate: 2,750* €/Person
Double Occupancy standard rate: 2,950* €/Person
Deposit: 1000 euros/person
* Prices do not include airfare.
INCLUDED
Arrival & Departure Transfer
Photography Instructor & Guides
Accommodation and Meals
Tickets & Entrance Fees
Local Transportation
NOT INCLUDED
Airfare
Snacks & Drinks outside normal meals
Alcoholic Beverages
Quad rental or any leisure activity not specified in the itinerary
Entry Visa Fees (if applicable)
International Medical and Travel Insurance. All participants MUST have this above before traveling
DISCLAIMER
We reserve the right to improvise (always with the objective to improve your overall experience), and change the itinerary due to adverse weather conditions or complications that may arise that are out of our control. Fun and safety are our number one priority.
We reserve the right to cancel the tour if the minimum number of participants is not met (which quite frankly, is highly unlikely. Who wouldn't want to have this experience of a lifetime!?).
Please do not purchase air travel before confirming with us. We wouldn't want you roaming around unguided.
Participants are expected to be in fair health and be capable of spending the days walking around the various areas while carrying their own equipment. It's a holiday, yes, but it's also an adventure.